Name:
Alana "Sleeves" Church
Gender:
Female
Age:
17
Height:
110 cm
Weight:
77 lbs
Eye Color:
Blue
Hair Color:
Blonde
Skin Color:
White
Race:
Mouse
Faction:
Freedom Fighters
Languages:
(Unknown)
Appearance & Attire: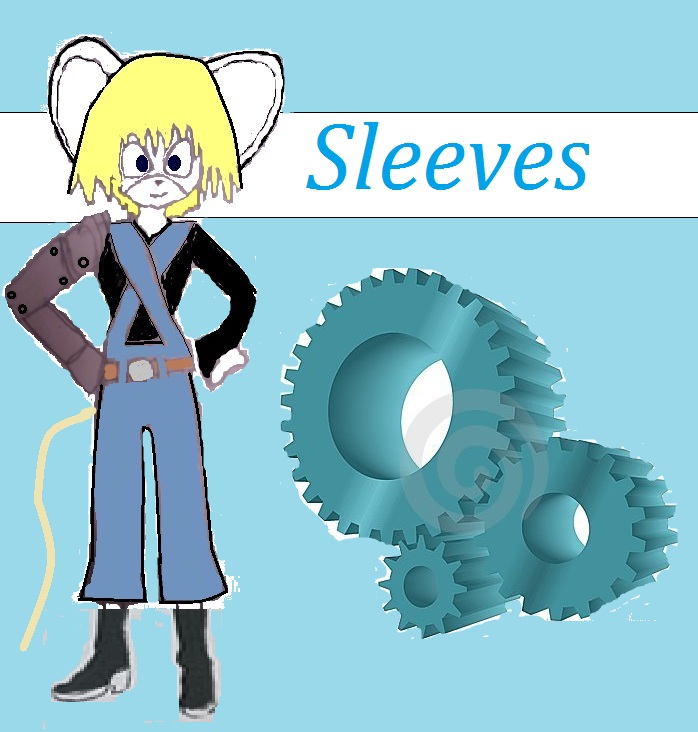 STRENGTH: ★★★★
DEXTERITY: ★★
CONSTITUTION: ★★
INTELLIGENCE: ★★★★★★★★★
WISDOM: ★★★★☆
CHARISMA: ★★★★★
Inventory:
-Monkey Wrench
-Screwdriver
-Automail Arm
Personality:
Sleeves is friendly, generous and always seems to have a cheerful demeanor about her. She isn't easily angered or discouraged by what other people say. She also seems to have a tomboyish charm to her. However, her head always seems to be under the hood of an engine or in a book. A lot of her friends call her quite the character.
Biography:
Sleeves has lived in the greenhill zone for most of her life, she is usually found in her little workshop working on her little inventions or doing motor repairs for a friend. She was a bit of a tomboy when she was younger and loved watching the other animals work on planes, cars and other engine based vehicles. She's the head mechanic of her own garage and is very good at what she does. She's often very generous with her prices and even does a full upgrade with no added price. Instead, she apologizes for being so nosy and not being able to resist herself from fiddling around with it. She had joined the freedom fighters because she supports their cause and in hopes she could fix up some pretty neat stuff for them.
Sketches: